BIO AND ARTISTS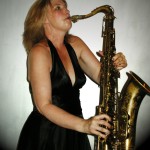 Patricia Burgess is a multimedia artist, composer and producer.
A jazz saxophonist, Burgess incorporates classical forms and harmonic language into her work. She merges computer generated sound environments with Tibetan traditional music, creating a new eclectic synthesis. Her work Reflections of the Watermoon premiered at Merkin Concert Hall, amelia's flight premiered at Top of the Rock Observation Tower, Rockefeller Center. Music for theater classics include Hamlet and The Seagull.
Her current work is focused on multi-media, stereoscopic 3D opera, digital interactivity and site-specific installation. Awards include National Endowment for the Arts, New York State Council of the Arts, Meet the Composer and have been supported by the Mary Flager Cary Charitable Trust, Harkness Foundation for Dance, The Lower Manhattan Cultural Council, Lalit Foundation, Promotion Arts Association, many generous individuals and invaluable nuts and bolts support from Tishman Speyer.
_________________________________________________________________________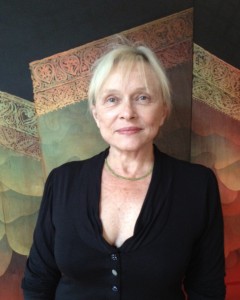 Ina Kozel, a pioneering artist in painted textiles, has been exploring the painted plane in space and the related elements of scale, light, material and movement over the past three decades. Best known as one of the original founders of the art-to-wear movement with her painted silk garments, Ina's body of work has also ranged from large interior installations to political commentary. Her painted silk and her site specific installations have been exhibited in major museums and public venues internationally in Europe, Asia and USA. Having created the visual elements for Patricia Burgess's opera Amelia's Flight, staged on the Top of the Rock in New York City, Ina continues their collaboration as production designer for her new opera Yeshe, Queen of Tibet.  Read more… _________________________________________________________________________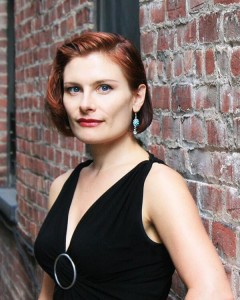 Soprano Heather Green is a dynamic and versatile performer who is active in both Opera, and new, experimental works.  Critics have described her as "attractive and well-voiced,"and a "soaring soprano,"  whose  "powerhouse vocals cut through… and hit us right in our hearts."
Career highlights include participation in the 2011 New York City Opera VOX Showcase, as a soloist in Three Weeks, and her creation of the role of Bitia in the full production of Yoav Gal's Mosheh, which was chosen by The New York Times as one of the most exciting operas of the year.  Of Heather's portrayal, Times critic Allan Kozinn wrote, "Ms. Green's searing, powerful performance was spellbinding."  In 2012, Heather was pleased to make her debut as a soloist, in One World Symphony's concert, "Moonlight," and 2013, returned to sing Blanche Dubois in selections from Andre Previn's A Streetcar Named Desire.
Ms. Green is always eager to bring exciting, new works to life. She is also thrilled to embrace works from the dramatic repertoire having recently sung Sieglinde in Die Walkure.  Other favorite roles to date include the title heroines in Turandot, and La Fanciulla del West, as well as Santuzza in Cavellaria Rusticana, and Asteria in Boito's obscure Nerone.
Heather is also a kind and supportive colleague.  Born on a farm in rural Pennsylvania,and holding a degree in Sculpture from Pratt Institute in Brooklyn, NY,  her diverse interests include participation in a wide spectrum of the arts, as well as hiking mountain paths and city streets alike, reading, swimming, kayaking, cooking, and of course, sinking her teeth into a role.
___________________________________________________________________________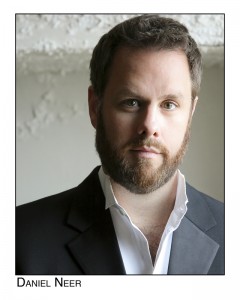 Daniel Neer is a singing actor and writer en joying a diverse career in the performing arts.
He has performed world premieres of new works at such venues as The Royal Opera House Covent Garden ROH2 series, New York City Opera, Center for Contemporary Opera, American Opera Projects, Galapagos Art Space, Miller Theater, Guggenheim Museum, The Kitchen, and Queens New Music Festival.
He has performed over 100 characters in opera, operetta and musical theater in America and abroad, with concert appearances at Carnegie Hall, Lincoln Center, Miller Theater, The Apollo, Guggenheim Museum, Chicago Art Institute, Aspen Music Festival, Radio City Music Hall.  Broadway credits include Baz Luhrmann's 'La Boheme', and 'Coram Boy', directed by Melly Still. Daniel's play 'The Interview' premiered at NYC's New Works International Festival for Short Plays in 2009. He is the author of three chamber opera libretti: 'Mercury Falling' (Long Leaf Opera Festival, 'Odes to Earth and Air' (Adelphi University), and 'Stop and Frisk' (American Opera Projects. danielneer.com __________________________________________________________________________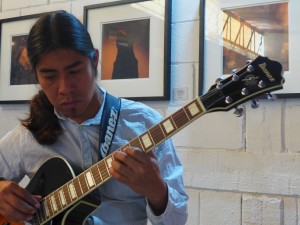 Ricardo Chávez (Guitarrista) es originario de la Ciudad de Oaxaca, cuenta con estudios musicales de la Casa de la Cultura Oaxaqueña y de la Escuela de Bellas Artes de la UABJO, donde cursó la especialidad de Guitarra Clásica.
Proviene de una familia musical, donde aprendió con su padre y abuelo, guitarra y la tradición de la música mixteca del violín. Su labor musical lo ha llevado a interpretar diferentes géneros musicales, ya sea como   solista o en ensambles.
Se ha presentando en diferentes foros de Oaxaca, el interior del país y a nivel internacional. En 2008 hizo una gira como guitarrista acompañante de música  tradicional istmeña con la cantante Martha Toledo en Alemania, Holanda y Francia.
Actualmente es miembro de la Orquesta Mexicana (Pasatono Producciones), donde ejecuta la guitarra de golpe y percusiones, con la cual se ha presentado en los festivales Instrumenta Oaxaca 2013 y el Festival Internacional Cervantino 2014.
Es guitarrista en su banda Monkey Blues (Blues), También guitarrista con Agualuna (Jazz and Experimental Music) y con el Ensamble Rru Tanue (Música Tradicional contemporánea).
__________________________________________________________________________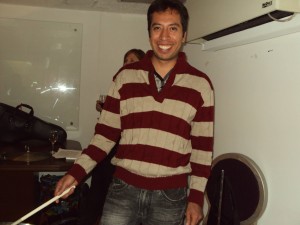 Hugo Garcia (Baterista) desde 2001 originario de la ciudad de Oaxaca de juarez Mexico tomo clases de bateria y percusion en el conservatorio de musica y artes Schola Cantorum de Celaya Guanajuato, con Armando Cruz en la ESM de la ciudad de mexico y en diversos talleres incluido el Percuba que se realiza cada año en Tampico Tamaulipas.
___________________________________________________________________________
Patricia Burgess Multimedia Works & Performances

AQUALUNA, a jazz ensemble playing the music of John Coltrane, Duke Ellington, Thelonious Monk, Rahsaan Roland Kirk and originals of the band members Ricardo Chavez, Hugo Garcia and Patricia Burgess.  Premier in Mexico City and currently performing in Oaxaca.
Symposium with the Brazilian string quartet Cuarteto Q-Arte at Instrumenta Oaxaca.
Live sound score for the film Que Viva Mexico! by the director Sergei Eisenstein (1931) with the composer Mauricio Valdes San Emeterio using Max software. Premiere Centro Cultural San Pablo in Oaxaca.
A seven hour musical installation at Museo de la Filatelia (MUFI) in Oaxaca with the composer Mauricio Valdes San Emeterio using Max software to create new sound landscapes from live improvisations.
YESHE, QUEEN OF TIBET composer, librettist, saxophonist Patricia Burgess with artist Ina Kozel, tenor Daniel Neer, soprano Heather Green and guitarist Ricardo Chavez.  Premiere 80th Birthday Celebration of Khenpo Tsultrim Gyamtso Rinpoche in Boudha, Nepal
YESHE, QUEEN OF TIBET multi-media experience with paintings by the artists of Guenda Colectivo accentuating the story of Yeshe Tsogyel, Heather Green via skype from New York City, and live musicians Ricardo Chavez and Patricia Burgess.  Closing event at Guenda X Aniversario
YESHE, QUEEN OF TIBET instrumental at the Guenda X Aniversario, the largest woman's art organization in Oaxaca.  Guitarist Ricardo Chavez, percussionist Ignacio Carrillo Garcia and saxophonist Patricia Burgess

BOND IN CANNES, solo saxophonist Patricia Burgess performs 007 tunes at MIPCOM.
WATERMOON SOUND TRAVELS to Delhi, Jaipur, Varanassi, Kathmandu and Tibet experiencing sound worlds and performing amelia's flight.
REBEL BUDDHA Freedom Tour, Dzogchen Ponlop Rinpoche.  The punk jazz global band BORDER PATROL cuts through media boundaries to express the interconnectedness of cultures. Features bassist Marc Greene, dancer Dalia Carella, percussionist Mal Stein and saxophonist Patricia Burgess, The Great Hall at Cooper Union, New York, NY.
CREATIVE THYME, interactive storyteller Ariane Smith and saxophonist Patricia Burgess at Food Network New York City Wine & Food Festival, Chelsea Markets, New York, NY
AMELIA'S FLIGHT - GLOBAL CONNECTIONS, a shaman from Dakar, talking drums, sitars, Tibetan bells and improvisations by Patricia Burgess concluding with her composition on the Noble Liberator Tara, Spokane Falls Community College, Spokane, WA
WOODSTOCK, THE ANNIVERSARY - Patricia Burgess, saxophone, Woodstock, NY
AMELIA'S FLIGHT - A Tribute to Amelia Earhart, a multimedia installation created by Patricia Burgess and Ina Kozel, performed by the Watermoon Arts Ensemble at Top of the Rock Observation Tower, Rockefeller Center, New York
CONCERTS IN LAS TERRANAS AND SANTA DOMINGO - Patricia Burgess, saxophone, The Dominican Republic
NOTHING WITHOUT A WOMAN, a multidisciplinary jazz suite with mock radio interviews celebrating unconventional women. Composer/ Saxophonist Patricia Burgess and Vocalist Cara Angela Liguori, St Peter's Episcopal Church.
MOON, a collaboration with Dario Vaccaro for saxophone, bass and an electric wind instrument, Dance New Amsterdam. Made possible in part through Meet the Composer and the New York State Council of the Arts
NO FEAR, based on The Liberator Noble Tara, Roberta Pickford, piano, Alex Coke and Burgess, saxophones, Atlantic Center for the Arts FRIENDS for big band based on a slave song, lead by Sam Rivers, Atlantic Center for the Arts
REFELECTIONS OF THE WATERMOON, workshops in Mt. Abu, India
PRAYER FLAGS, Burgess, saxophone
THE WHOLE WIDTH, Pamela Z, vocals and Burgess, saxophone
REFLECTIONS OF THE WATERMOON, Atlantic Center for the Arts, aerial dance performance with Joanna Haigood of Zaccho Dance Theater
REFLECTIONS OF THE WATERMOON, an interdisciplinary opera for 7 women and baritone. With Joan La Barbara, Robin Sneider, Alexandra Sweeton, Daniel Neer, Catherine Gale, Beth Cullinane, Michal Cohen and Amy Cervini at Merkin Concert Hall in NYC.
MILEREPA, the story of Milarepa, a Tibetan saint and the most beloved poet of Tibet Libretto
NAGARJUNA & SCHOENBERG, this libretto compares the thinking process of Nagarjuna, an ancient Indian scholar, with Arnold Schoenberg. 1995 SKY DANCER, a libretto using musique concrete from sounds recorded by Burgess in modern Bhutan, Nepal and India to emphasize the timelessness of Yeshe Tsogyel's life
THE SKY UNVEILED, a libretto about the Women's Airforce Service Pilots of World War II.
VENUS OF WILLENDORF II, music for theatre and video by Ariane Smith and Mark McKenna; Synthesizers, drum machines and percussion
LYSISTRATA -THE HUMAN CARTOON, collaboration with Ariane Smith and Mark McKenna; Piano, electric piano, synthesizers, bass, trumpet, trombone, tuba, tenor saxophone, baritone saxophone, percussion, Sound FX; Toontheatre CO., N.Y.
THE DREAM OF THE FOUR DIRECTIONS, an interdisciplinary opera, Eleven voices, synthesizer, guitar, tenor sax, upright bass, drums; Medicine Show, Burgess, Jack DeSalvo, Tony DeSisto and Bruce Ditmas
THE DECAMERON I & II, a collaboration with Ariane Smith; Piano, electric piano, bass, drums, percussion, accordion, trombone, trumpet and tenor saxophone; Theater Row, NYC
VENUS OF WILLENDORF I, music for video by Ariane Smith and Mark McKenna; Synthesizers, drum machines, percussion, SFX; Tribeca Performing Arts
THE RIVERMAN, Piano, strings, trumpet, horn, bass and percussion; Independent Theater Company, New York, NY; Director Anne DeMare
THE BALCONY, Piano, bass, drums, accordion, violin, war sound effects and vibes; Independent Theater Company, New York, NY; Director Anne DeMare
HAMLET, Orchestra plus synthesizers; Independent Theater Company, New York, NY; Director Anne DeMare
TROJAN WOMEN, Taiko drums, timpani, percussion ensemble, synthesizers, strings and French horn section; Independent Theater Company, New York, NY; Director Anne DeMare
JEST, SATIRE, IRONY AND DEEPER SIGNIFICANCE, Piano, bass, drums, string quartet, tenor saxophone, trombone, tuba and percussion; Independent Theater Company, New York, NY; Director Anne DeMare
THE GHOST SONATA, Synthesizers, percussion and electric guitar; Independent Theater Company, New York, NY; Director Anne DeMare
THE SEAGULL, Piano, acoustic guitar, alto flute and string quartet; Independent Theater Company, New York, NY; Director Anne DeMare
MACHINAL, Percussion ensemble, piano, bass and industrial SFX; Independent Theater Company, New York, NY; Director Anne DeMare
LAISONS DANGEUREUSES, Modified for accordion and tenor saxophone; Patricia Burgess and Pauline Oliveros; Experimental Intermedia in New York
LAISONS DANGEUREUSES, collaboration with Wiska Radkiewicz. Piano, microphone and tenor saxophone; Patricia Burgess and Wiska Radkiewicz; Princeton University
THE GAME OF REBIRTH, theater piece for 5 synthesized sound environments from 5 locations with live musician; Patricia Burgess; NYC Dharmadhatu
58 MINUTES, Magnetic tape with live drums, saxophone, synthesizer, soprano and dancer; First performance Donna and Helen Decker, Bruce Ditmas, Keith Gardner and Patricia Burgess; Snug Harbor, Staten Island
PORT OF ENTRY, a collaboration with Steve Clorefeine for tenor saxophone, actress, architect and director; First performance Steve Clorefeine and Patricia Burgess; Art on the Beach for Creative Times