PERFORMANCES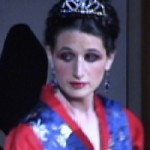 Yeshe, Queen of Tibet
A musical composition that expresses the marvelous life of Yeshe Tsogyel, the eighth century queen of Tibet.
Influenced by jazz and contemporary music, a chorus of seven powerful ballads capture the humorous motives between ministers, town gossips, thieves and jealous princes vying for the hand of Tsogyel. Read more…
((((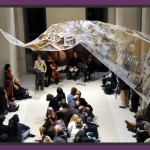 Amelia's Flight
A surround sound dramatization based on the groundbreaking icon and aviatrix Amelia Earhart
Radio broadcasts, sounds of plane engines and hazardous weather changes and music from different countries bring her daring adventure to life. Pictures of the world taken during Amelia's equatorial flight will be aloft on kites. Read more…
mmmmmmm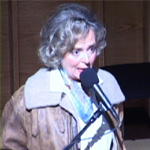 Reflections of the Watermoon
A new opera exploring the unobstructed movement of vast mind through space and time.
Amelia crashes in the Pacific, beginning an unexpected journey. The legendary Tibetan queen Yeshe Tsogyel appears on the wing of her plane, leading her beyond the confines of her conventional mind to that fluid point between life and death. Read more…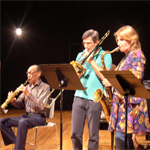 nn
Border Patrol
The punk jazz global band BORDER PATROL cuts through boundaries to express the interconnectedness of cultures. The band features bassist Marc Greene and saxophonist Patricia Burgess in a variety of ensembles.  Here they are featured with Sam Rivers.
Read more…
bbbbbb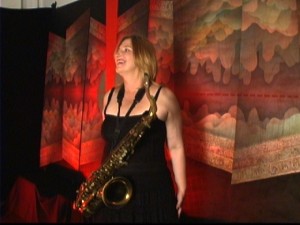 Solo Flights was inspired by Amelia Earhart's heroic solo flight and led to solo performances based on ideas of space and time. The series of solo flights are a tribute to all solo adventures.  Click on Solo Flights to hear Pamela Z perform a song based on Earhart's words of the final leg of her equatorial journey.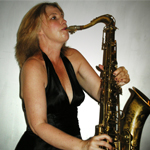 A Magical Mystery Tour
Experience the beats, rhythms and daily pulse of South America, Africa, Asia and beyond.  Join Saxophonist Patricia Burgess in mapping Amelia's flight along the equator.  A multimedia performance with pictures from Amelia's 1937's flight and pictures of the same locations today.  Dakar shamans, talking drums, sitars, Tibetan bells - are all weaved together by Patricia's contemporary sound. Read more…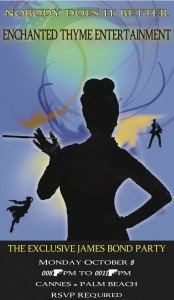 Saxy Sabrina plays Bond in Cannes
Patricia Burgess plays 007 tunes on the saxophone accompanied by the lush orchestra of the 60's.  Fun for Bond parties and industry events.