Watermoon Reflections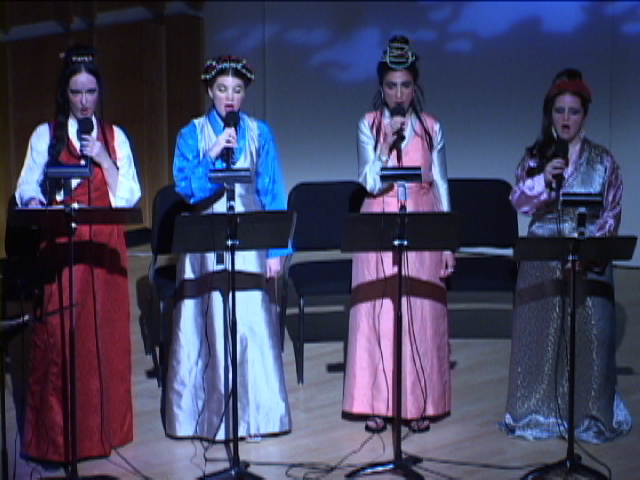 Reflections of the Watermoon, a new opera, is the first of a trilogy exploring the unobstructed movement of vast mind through space and time.
Amelia crashes in the Pacific, beginning an unexpected journey. The legendary Tibetan queen Yeshe Tsogyel magically appears on the wing of her plane and leads her beyond the confines of her conventional mind to that fluid point between life and death.
Music carries Amelia to a mythical land between the Tibetan plateau and the Pacific Ocean where skeletons dance and butter lamps reflect ancient temple iconography. Here the wind, seeded with the words of Tibetan prayer flags, sings ancient stories to Amelia as she prepares for her final voyage over that lonely stretch of ocean. This new opera shows the dance of dreams, desires and preconceptions that ensue when cultures collide.
Prelude — Dreams
The forced crash landing of Amelia Earhart in the Pacific begins an unexpected journey.
Act I
Scene 1 — Introductions
Dancing on the wing of her plane, a skeleton, the bones of Tibet, introduces Amelia to his sixth century queen, Yeshe Tsogyel. Yeshe, knowing a pilot's life is hours of solitude and instances of terror, realizes they share the same strength of mind.
Scene 2– The Immense Sacred Space
The crystalline heights of the Himalayas emerge from the sea. Amelia, drawn to their raw beauty, ignores their inherent dangers. Yeshe challenges her concepts.
Scene 3 — Bones
Jackie Cochran, Amelia's close friend and fellow pilot, senses trouble. Coming across a picture of Tibetan prayer flags, she makes an emotional connection to this country and sees the heart blood of a nation. Yeshe examines Amelia's wedding contract and compares Amelia's independence to the independence of an isolated country and the spirit of its people.
Scene 4 — Fire of Women
The fierce blazing sun of the Tibetan plain vanishes into a blazing circle of fire, an encampment of women: Machig, the powerful magician; Obum, a connoisseur of men; Mandarava, the scholarly and cultured one; and Drowa, an old yak herder. The women sing of love and life.
Act II
Scene 1 — The Village Festival
The skeleton portrays the sixth Dalai Lama and speaks of the illusory nature of love and life.
Scene 2 — Lhasa
Yeshe asks Amelia to analyze the idea of self and mine. Her companions spoke her with tales of the future Lhasa. She's comforted by the images of the four kings symbolizing the wealth and pleasure of this world.
Scene 3 — The Temple
Entering the darkened temple, flickering candles illuminate an illusory dancing figure emerging from the wall. Amelia understands the illusory power of her mind and its transforming quality. Bravely she turns toward death.

Scene 4 — The Gateway
Amelia descends the steps of the temple, her destination clear. With the skeleton on the wing of her plane and with Yeshe Tsogyal as her copilot, they say good-bye over that lonely stretch of ocean.